NATURE PACIFIC is a joint Australian-Fiji company specialising in the development of certified organic and 'organically grown' Island products and traditional remedies that have been part of daily life through out the Pacific for centuries.
NATURE PACIFIC also links with sister company – TRIBAL PACIFICA as part of a Pacific Islands Group of companies which encourages business with local indigenous communities through the sale of Tribal Art and Artifacts from Papua New Guinea and the Pacific http://www.tribalpacifica.com
Ken Sigrah and Stacey King are the couple behind NATURE PACIFIC and TRIBAL PACIFICA who understand very well the problems facing indigenous communities as they struggle for daily survival and the upholding of their ethnic identity in a rapidly changing world.
Ken is an indigenous Banaban Pacific Islander whose people are referred to as the 'Forgotten People of the Pacific' (for more detailed information visit http://www.banaban.com. His partner, Stacey is an Australian, with six generations of her family's involvement with the Banabans and fifteen years experience in aid and cultural projects in the Pacific region.
They both share a professional background in the Australian Natural Health industry over the past nine years and have developed a BANABAN range of Fiji grown Virgin Coconut Oil products to promote what the Banabans have known for centuries. For Ken and his people the Coconut tree aptly known as 'The Tree of Life!' is an essential part of daily life. As Ken states, 'we cannot survive back home on our island without the Coconut Tree, it is the essence of daily life for us.' 'The Coconut Tree provides us with coconut milk, oil for cooking and to protect our skin and hair, material to build our homes and wood for our canoes. We even turn the toddy we collect from the tree into sweet syrup, kamaimai which is a lovely sweet drink or the men ferment the toddy into our local beer. We credit the flesh from the coconut with providing us with strong thick hair and strong teeth. Various parts of the tree are used in our indigenous medicines.
Now western communities are starting to realise the benefits of the high Lauric acid levels found in coconuts which is second only to Mother's milk. NATURE PACIFIC'S Banaban Virgin Coconut Oil is harvested from naturally grown coconut trees. Unlike other
Coconut Oil producing nations, Fiji in not an industrialised nation and still enjoys a pristine environment. While Banaban Virgin Coconut Oil proudly carries the Banaban name, Ken and Stacey want to educate the public about the plight of Ken's people and the destruction of their original homeland from phosphate mining.
EMPOWERING INDIGENOUS COMMUNITIES
They are both passionate about their aims for NATURE PACIFIC and also understand very well the problems facing indigenous communities as they struggle for daily survival and the upholding of - their ethnic identity in a rapidly changing world.
With their combined experience of living and working amongst the Banabans and other Pacific people they have worked endlessly to assist these communities. They both believe that to really help their people and other indigenous communities on a long term basis they must empower these communities to help themselves. TRADE NOT AID is their main aim. Even though Ken has been living in Australia for the past nine years he still holds the position of Clan spokesman for his people back in the Island and is passionate when it comes to his people.
As Ken states, 'Our people back home are hard working, whose daily life is all about survival and raising our children to have an education and future. As a Banaban, my people have suffered greatly over the past century from the virtual destruction of our beloved homeland – Ocean Island (now known as Banaba) from phosphate mining. Our homeland is a tiny speck in the Pacific situated in a remote area near the Equator with Nauru as our nearest neighbour more than 180 nautical miles away, yet no one knows about us or our story. My people, the Banabans are now a displaced people living over 2,000klms away from our homeland on an island in the north-east region of Fiji. We now find ourselves split between the two Pacific nations of Fiji and Kiribati.'
'Over the years Stacey and I have worked tirelessly to educate the public about the Banabans by writing books about our people's plight and the making of numerous documentaries for Australian and International broadcast. That's how Stacey and I first met in the early 1990's when she formed an international non-profit organisation that helped our community over the years.' For more detailed information visit – http://www.banaban.com/K&SBookreview.htm.
'We both know from experience that the only way indigenous people can stay strong culturally and physically in this fast changing world is to be proud of who you are and where you come from. One of the most important ways to encourage this is by the preservation of traditional skills through culture and crafts.'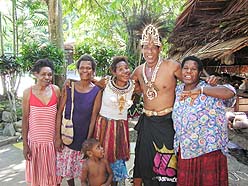 NATURE PACIFIC is all about upholding these traditions and empowering our people back home with the rich heritage we all share. As Ken states, 'We as indigenous people may have nothing in a monetary sense, and yes each day is a struggle for us back on our homelands, but we know who we are and where we come from. Especially in our case when we have been displaced and our homeland has been left in ruins, our rich phosphate soil scattered to the winds on Australian and New Zealand farmlands, and yet through all this hardship we like other Pacific people are happy and culturally rich.
We believe that both our companies NATURE PACIFIC and TRIBAL PACIFICA truly reflect these communities through our natural range of products and the art from the land we belong…
Regards,
Ken & Stacey
NATURE PACIFIC
3/29 Taree Street, Burleigh Heads. Gold Coast Qld 4220 Australia
Phone: (61) 7 5575 9005 Fax: (61) 7 5593 2478
Email: admin@naturepacific.com
www.naturepacific.com